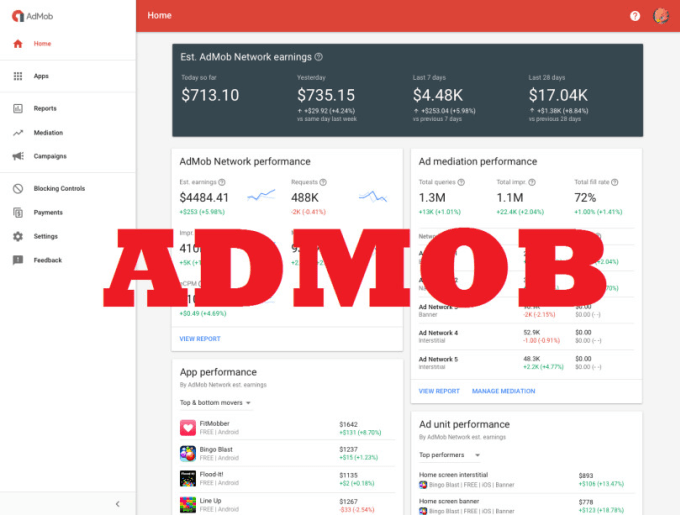 Have you ever wondered why most people are learning how to build mobile apps and being experts in web development? I'll tell you a secret that only programmers know. You can make atleast 100$ per day. Stay tuned let me show you how.
Most people search on the internet looking for ways to make money online and I'm sure you are one of them.
Google admob is one of the best way to make money online and it is 100% legit because of it is product of Google and we know that Google never scam us because they have a big reputation to protect.
In today's episode, I will unveil to you guys the secret on how to make money with Google Admob Self Click. I will be giving you the basic information you may need to add extra cash to your bank account using Google Admob. But before we proceed I will like to brief you on what Google Admob is and how it works.
Following things you needed to make money
1 .GOOGLE ADMOB ACCOUNT
2. ANDROID OR IOS APP
3. APP USERS OR USING VPN
1. GOOGLE ADMOB ACCOUNT
What is Google Admob? AdMob is Google's advertising platform for promoting and monetizing mobile applications (Android and IOS). It allows mobile App developers to monetize their apps through this platform, and provides intelligent insights via Google Analytics. So without wasting much of our time let's go ahead and create a Google Admob account.
How to Create Google Admob Account
Follow the easy steps below to create your own admob account.
Visit the Admob webpage by clicking this link https://www.google.com/admob or copy it to your browser which is visible at the top right hand side of the Google Admob sign Up Page
Then enter the email and password which you want to create an AdMob account with (It must be a Gmail account ).
After that choose your country (Nigeria ),
Select time zone [ (UTC+05:30) Lagos ]
Select currency [US Dollar (USD $)]
Agree to the terms and conditions
Click on

"

CREATE ON ADMOB ACCOUNT

"

.
Easy right? Now you can say HELLO to your Admob dashboard
Click on

"

Apps

"

on the left side of your dashboard then scroll to

"

ADD YOUR FIRST APP

"

.
After this you will have an option that says you have published your app on Google Play or the App Store? You have to click on

"

NO

"

In app name you can give whatever you want to name your app and tick on

"

android

"

in platform section then click on

"

ADD

"

button then click on

"

NEXT: CREATE AD UNIT

"

.
After this you have to select Ad Unit like banner, Interstitial etc.
2. ANDROID OR IOS APP
Now you are done creating Admob account, how do you get the app? Don't worry much I can help you design the app for just 20$ (₦7000) and I can teach you how to build apps of your choice for just 50$ (₦2000) just whatsapp me @ +2348145079721 or chat me on facebook
Mr Best
. It's really worth it and trust me, you can make back your money in just one day after you follow the steps I show you.
After I confirm your payment, you'll send me the admob code you generated so that I can put it in your app and I'll send you your app within 24 hours of payment. Trust me. I have worked with so many people.
3. APP USERS OR USING VPN
There are actually two ways to make $100 a day using your app.
1. WITHOUTH VPN
2. USING VPN
1. WITHOUT VPN
We'll first talk about using your app without vpn which means you have you have to put your app on playstore or a website that users can download. And you must have enough resources to sponsor it for interested users to see it. Please follow my page on facebook
http://www.facebook.com/expodeal
to see latest update as I will provide you the secret of success on how to make money online.
So for you to start making money from your app you first need to have professional skill to build a professional app
Where to learn these skills
I can teach you how to create an app from $30 - $50 depending what you want to learn just whatsapp me @ +2348070877127 or chat me on facebook
You can learn from edx
Udemy
coursera
These website provides you skill of your choice at a very cheap price or without any price
Note - That if you want develop an app and want to publish it on playstore and Appstore, you need to learn java, java script, and HTML etc. languages and then you develop your app in android studio software.
If you want to develop app without coding you can still contact me @ +2348145079721 or chat me on facebook and I'll teach you everything you need to know for just 50$ (₦20000)
Link how to make money online
2. USING VPN
Using VPN is one of the smartest and easiest way to make money from admob without stress all you have to do is to be smart and not be too over greedy. You have to follow the steps closely as I'll show you how to make more than 100$ (₦35000) a day.
How does vpn works?
VPN is a virtual private network. Which change our IP (internet protocol) address and this change one country to other country location .you can find your IP simply typing in the browser "what is my IP?"
VPN or Virtual Private Network gives you online privacy and anonymity by creating a private network from a public network like WiFi Hotspots and the Internet connection. VPNs mask your IP while surfing online.
The work of VPN Here is to make your internet connection appear as if you are from another country, And while using the VPN you need to target countries with high CPC.
Once your IP is changed Google determine that you're from the country which location you chose from vpn apk.
There are different VPN's out there that are doing well check out the list of VPNs you can use for your admob self-click tricks.
1. Express VPN
2. Hide My Ass VPN
3. Windscribe VPN
4. Turbor VPN
5. VYPER VPN
6. CYBER GHOST VPN
7. TUNNEL BEAR VPN
The Above vpns are recommended and I personally used them to make cool cash too. Lol
So lets wrap is up. For you to make money on you app using vpn you need the following
1. Admob account
2. Created ad unit
i. Banner ad unit
ii. Interstitial ad unit
Like I said earlier after you finish creating your ads unit you need to send them to me so that I can put them on your app for you to start earning.
You need to provide your admob ad unit ID's and I will created an app for you. you can contact me on my telegrams number or you can join my facebook group here
There are two types of tricks which you can choose
1.auto impression app
2.clicking himself app
I will provide you both the apps and you have to use them wisely
How can you use auto impression app?
Auto impression app is only used to increase your app impression of your admob ads and it is used like auto pilot
How to use it?
First of all download VPN and connect to country like US, UK etc. because the CPC ( click per cost ) of these countries is very high
Open your app only one minute it will automatically loading ads and increase your apps ad impression.
What is the profit of impression?
The profit of these impressions that when you make request for payment or check your payment on AdSense it will never cut your admob earning because of many clicks and few impressions . And you receive your full payment without losing high amount of money .
Clicking yourself:
As you know that we cannot click on our on ads and Google will disable your AdSense account if they find out but here is the trick. Just follow closely:
1. First of all you need to open you vpn apk and comment to the country
2. And then open your app of your ad Id's.
3. Then watch 20 ads and then click ad which redirect you to the browser and watch it for 20 seconds then you need
4. To clear the data
vpn data
App data
browser data
Caution: Please and please. We strongly recommend you not to click on ads which redirect you to play store because the email address of play store will show your country which can help Google to track you
And do not to use the chrome browser
You can use UC browser or Firefox just make sure you follow the steps above
If you have any problem, I mean any problem am always available to provide you with a solution kindly drop a comment below and I will reply you. And please, don't forget to share with friends